7. Real-time payments (NPP)
Real-time payments in Australia occur over the New Payments Platform (NPP). The NPP is operated by NPP Australia (NPPA).
As a platform for innovation, the NPP plays an increasingly important role in Australia's digital economy. The main features of the NPP are:
| | |
| --- | --- |
| • | Speed - payments are processed in real-time and funds are available immediately |
| • | Accessibility - payments are available 24/7, 365 days a year |
| • | Data-richness - payments messaging is based on the ISO20022 standard |
| • | Convenience - PayID, the platform's addressing service, allows users to link accounts to a mobile number or email address, for simple addressing of payments. |
Governance of real-time payments
NPP Australia owns, operates and governs the NPP. It sets the operational rules and compliance requirements for participating organisations and for processing payments on the platform.
The RBA manages the RITS system and provides the Fast Settlement Service (FSS) which supports real-time settlement of NPP payments.
Real-time payments operations
The NPP has a distributed architecture model. Participating organisations, who choose to directly connect, host a payment gateway (PAG) containing automated rules for processing and routing transactions between other directly connected participants and the RBA.
The NPP PAGs and infrastructure were custom built by SWIFT. The platform uses the data-rich ISO messaging standard ISO20022, which allows additional data to accompany payments. NPP payment messages support 280 characters of unstructured data.
New Payments Platform2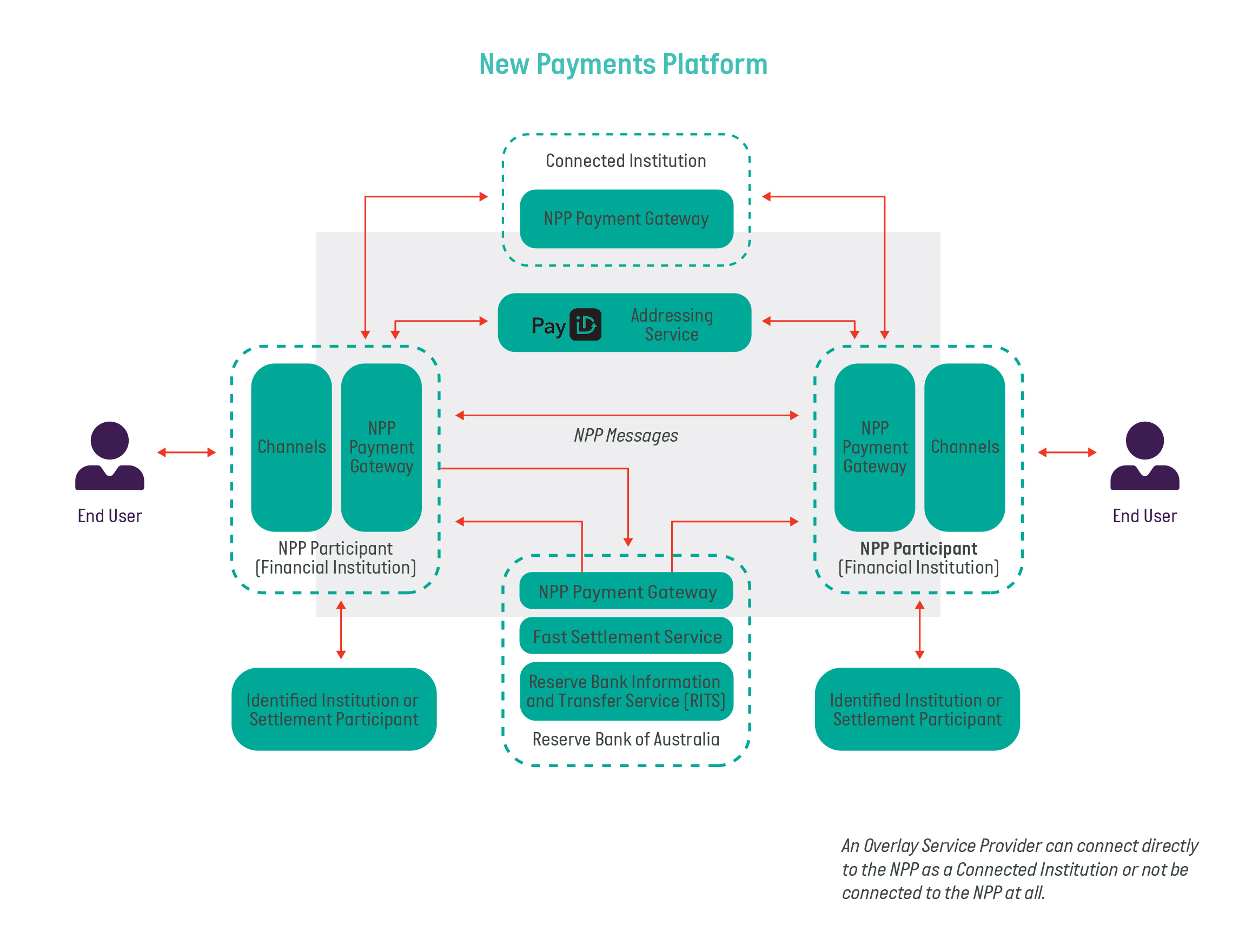 ------------
2 This diagram is used with permission from the NPPA.
Overlay services
Overlay services are tailored payment or payment-related services which sit on top of the NPP.
Osko, owned by the BPAY Group, is the first overlay service to leverage the NPP's capabilities. It is a fast way to send peer-to-peer payments. More information on Osko can be found here.
There are indirect and direct models for participating in Osko transactions. Contact BPAY Group directly to understand more about processing these.
Processing real-time payments
Direct and indirect options for accessing the NPP include:
| | |
| --- | --- |
| • | Full participant |
| • | Settlement participant |
| • | Identified institution |
| • | Connected institution |
| • | Overlay services provider |
| • | End user |
More information on how best to access the NPP and any regulatory licenses that might apply is available on NPP Australia's website.